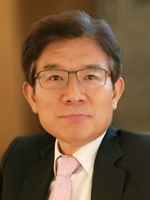 Optical wireless for 5G: Complementary or Competitive
Prof. Yeon Ho Chung (Pukyong National University, Republic of Korea)
Abstract: 5G is being developed as a new platform for mobile networks with three main focuses of capacity enhancement, massive connectivity, and ultra-high reliability. Some of candidate technologies have emerged such as mmWave and massive MIMO. As an opposing but complementary path of wireless technology development, optical light based communications, called optical wireless communications, are being considered efficient short-range wireless communications. As a large volume of mobile traffic occur indoors, optical wireless communication is suited especially for indoor wireless communications based on light emitting diodes. Optical wireless communication encompasses visible light communication (VLC) and camera (or image sensor) based optical camera communication (OCC). As nearly six billions of smartphones have been sold out worldwide, all mobile users effectively carry OCC receivers with no additional hardware cost incurred. The recent adoption of dual camera in smartphones will open a new path for OCC in the future. This keynote session begins with principles, IEEE standardization activities and challenges. It continues to provide an overview of recent developments on optical wireless communications in view of complementary or competitive technological advances toward 5G.
Biography: Prof. YEON HO CHUNG is a professor in the Department of Information and Communications Engineering, Pukyong National University, Busan, Republic of Korea. He obtained an MSc. from Imperial College London, United Kingdom, in 1992 and a Ph.D. from the University of Liverpool, United Kingdom, in 1996. He was a visiting professor at Pennsylvania State University, University Park, U.S. and also at Chiba University, Japan. Over the past three years, he published 40 research papers in international journals in the field of optical wireless communications and also made a chapter contribution to a book titled "Visible Light Communications – Theory and Applications," CRC Press. He is a member of the Editorial Board of the International Journal of Wireless Personal Communications, Springer, and also Internet Technology Letters, Wiley. He received the Top 2014 Paper Award from Transactions on Emerging Telecommunications Technologies, Wiley, from the contribution titled "Novel Color-clustered Multiuser Visible Light Communication." He was a foreign expert invited by the Government of India, who delivered an intensive course on optical wireless communications in 2017. He is a senior member of IEEE and his research interests are visible light communications, camera based optical wireless communications and ultraviolet communications.
---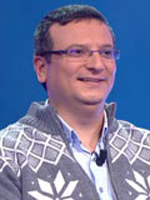 Recent advances in speech communication for ultra narrow band mobile adhoc networks
Prof. Dr. Hakkı Gökhan İlk (Ankara University, Ankara, Turkey)
Abstract: Mobile networks today suffer from wireless bandwidth. Experts always claim there is a potential for running out of wireless network capacity. In other words, when it comes to mobile wireless networks: Too much is never enough. The ancestors of modern mobile wireless networks are however tactical data links (TDL). The need to disseminate "tactical data" information such as the location and track of enemy bombers, fighters, ships or tanks was done by voice communications throughout Europe via radio waves using military standards at "ultra narrow bandwidths" compared to modern wireless networks. TDL played a key role in modern mobile, wireless networks just like DARPA (Defence Advanced Research Projects Agency) research played a central role in launching the internet revolution. Too much has changed since the World War II just like voice communication. This talk will present the need and use of ultra narrow band wireless mobile adhoc networks and novel research on voice communication for this purpose in the view of digital signal processing. This research hopes to find its way not only in military communications but also in civil applications like emergency responders at the scene of a natural disaster.
Biography: Prof. Dr. Hakkı Gökhan İlk was born in Ankara, Turkey in 1971. He received the B.Sc.degree from Ankara University, Ankara, Turkey, in 1993 and the M.Sc. degree instrument design and application from UMIST, University of Manchester Institute of Science & Technology and the Ph.D. degree from the University of Manchester, Manchester, U.K., in 1994 and 1997 respectively. He is a Professor with Electrical and Electronics Engineering Department at Ankara University. His current research interests are digital signal processing, namely speech, image and video processing. He has 69 publications, according to google scholar and 277 citations. His publications are in bioinformatics, optical communications, tactical data links, digital speech and image signal processing. He has a book in Turkish on "Applied Signal Processing". He is the founder of the Ankara University Speech Processing Group (AUSPG) and shared Turkcell's (biggest GSM operator in Turkey) "Best Academic Study Award" in 2007.
---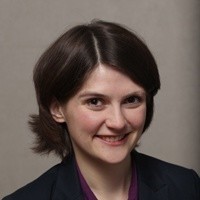 Virtualizing 5G Radio Access Network
Dr. Aleksandra Checko (IS-Wireless, Poland)
Abstract: At the dawn of 5G, virtualization of Radio Access Networks is of great interest to secure cost-efficient and high-performance mobile network deployments. Base station architecture is evolving from a dedicated, all-in-one hardware to a centralized and virtualized RAN, where RAN functionality can be run primarily in the cloud, lowering cost, improving flexibility and performance. The key elements to enable this disruptive approach are: virtualization of 3GPP system and centralization of Radio Resource Management (RAN controller). Such a virtualized baseband connects (i) to Remote Radio Heads (RRHs) from an antenna side, to form a base station, (ii) to a core network and (iii) to management and orchestration interface on a network side.  A virtualization framework (ETSI NFV) enables effective utilization of physical network resources and is able to address extremely diverse QoS in dynamic and cost-efficient manner, so called network slicing. The above may be extended with the concept of distributed cloud with Mobile Edge Computing (MEC) offers high-bandwidth, reduces delay assuring real-time access to RAN.  This keynote session introduces above mentioned technologies, together with their advantages, challenges and future work directions.
Biography: Dr. Aleksandra Checko is a SD-RAN Product Manager at IS-Wireless, where she is responsible for creating and aligning SD-RAN product vision with customers, partners and standardization groups. Her previous experience included working as a Project Manager and Senior Systems Engineer at MTI Radiocomp, where she worked on 4G and 5G fronthaul architecture, as well as supported IP cores and RRH development and testing. She was contributing to the IEEE 1914 Next Generation Fronthaul Interface standardization task force serving as an editor of the IEEE 1914.1 standard. She participated in research groups at DTU, Bell Labs and Foxconn, as well as European and Danish national R&D projects. She published at top research venues and holds a patent. She is an expert consultant for the European Commission. She received her double M.Sc. degree in telecommunication from the Technical University of Denmark (DTU) and the Lodz University of Technology, Poland in 2011 and a PhD from DTU done in collaboration with MTI Radiocomp in 2016 on "Cloud Radio Access Network architecture. Towards 5G mobile networks." Her interests include mobile networks, especially their architecture, protocols, synchronization and capacity planning methods.